We Won't Be Beaten On Selection / Quality Or Price
The Amazing Convenience Of Boiling Water On Tap
Instant access to 100°C water, energy-efficient, and money-saving, 100 percent safe and multi-purpose.
A True Revolution
The new kitchen must-have. Quooker: the tap that immediately dispenses boiling water. Tap on the worktop, tank underneath. A 100% Dutch invention taking over the world.
You can choose between a separate boiling water tap with accompanying mixer tap, or the Quooker Flex or Fusion: a single tap for hot, cold and boiling water. Ultra-safe, super-efficient and available in eight tap designs and three finishes.
And if you thought that the Quooker was wasteful, think again: the patented high-vacuum insulation ensures that the Quooker's standby usage is just 3 pence a day. For even more efficiency, choose a COMBI tank, a single, amazingly economical way to produce both hot and boiling water.
No kitchen is complete without its Quooker.
OUR TAP
Quooker Combi Tank
Kitchens in mainland Europe often have a separate kitchen boiler to provide instant hot water to their mixer taps. Here in Britain, we tend to pipe our kitchen's hot water supply all the way from our main boiler, which can mean running the tap for some time before the heat comes through. Now the Quooker COMBI brings instant hot (50-60°C) and boiling water (100°C) all from a single tank tucked under the kitchen sink.

Quooker's COMBI tank is a kitchen breakthrough in convenience, water usage and energy-efficiency. Economical to run, its standby usage is just 3p per day.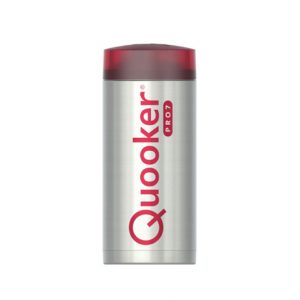 Quooker Pro7
Quooker PRO tanks sit neatly under your kitchen sink, providing instant 100°C boiling water on demand.

Very large families or semi-professional cooks may want the 7 litre PRO7. The 11 litre PRO11 is designed specifically to meet the needs of commercial and professional users such as hotels, catering companies and offices.

Economical to run, the VAQ standby usage is just 3p per day (PRO11 6p).
Quooker Pro3
Quooker PRO tanks sit neatly under your kitchen sink, providing instant 100°C boiling water on demand.

The 3 litre volume of the PRO3 will suit the majority of households.
Only 40 page will shocked you and give ease to reduce your effort, Download Quooker full range brochure, you will get amazed!

Save

Energy and Water

The Quooker's perfect high-vacuum insulation means that it only costs 5 cents a day to have boiling water at hand, exactly when you want it. What's more, the Quooker ensures that you always have the exact amount of boiling water you need. And you will really save money if you choose the COMBI tank, which supplies all of your kitchen's hot water too.

By generating both hot and boiling water in a single compact tank under your worktop, the COMBI eliminates the need to pipe hot water all the way from the main boiler to kitchen sink. No more running the tap for ages to get hot water and you'll see big energy savings too.
The Quooker COMBI generates all of your kitchen's hot water and boiling water from one compact tank which tucks away under your sink
Direct means instant! No more running the kitchen tap and waiting for hot water to be piped through the house from the main boiler to your mixer tap…
Saves water and energy: the single most efficient way to provide both hot and boiling water
Tank with high-vacuum insulation saves energy
Unique, patented insulation principle
Stand-by power consumption is just 5 cents per day
60% more energy-efficient than other boiling water taps
Be Safe
You have to be careful when dealing with boiling water. Knocked over kettles cause hundreds of casualties each year, especially for young children. Such accidents are a thing of the past with the Quooker, thanks to its childproof handle and insulated sides that ensure it never feels hot to the touch. The water is boiling, but the flow is a fine spray rather than a solid jet, giving you plenty of time to get your hands out of harm's way. Safety and ease of use go hand in hand with the Quooker.