If you're constructing, refurbishing, or decorating a brand new kitchen this year, you'll want to learn about the kitchen design trends that interior designers predict will be popular in 2023.
As the heart of the home, the kitchen plays an essential role in family life.
Whatever you decide to do in your kitchen renovation this year, make sure you explore these top kitchen trends before you start.
SAGE GREEN
One of the biggest trends we are seeing for the coming year is using sage green in the kitchen. From sage green kitchen cabinets to wall tiles and flooring, this stylish green shade is trendy. We are also seeing this colour sweep through the home, and end up in the living room, so it's one that's going to be around for some time.
Combining this rich colour with other light hues creates a stunning kitchen that's bang on trend, and will stand the test of time. If you've always leaned towards a dark green kitchen, now is the time to shake things up.
POPS OF COLOUR:
White kitchens are always going to be popular but the new year brings pops of colour to our kitchen design. Bold colours are front and centre in the kitchen trends of 2023, so it's time to embrace strong colour palettes.
We highly recommend choosing a dark colour as your base and adding pops of different colours that suit your personality and the rest of your home. If you're not sure, always opt for warmer tones as they're easier to live with.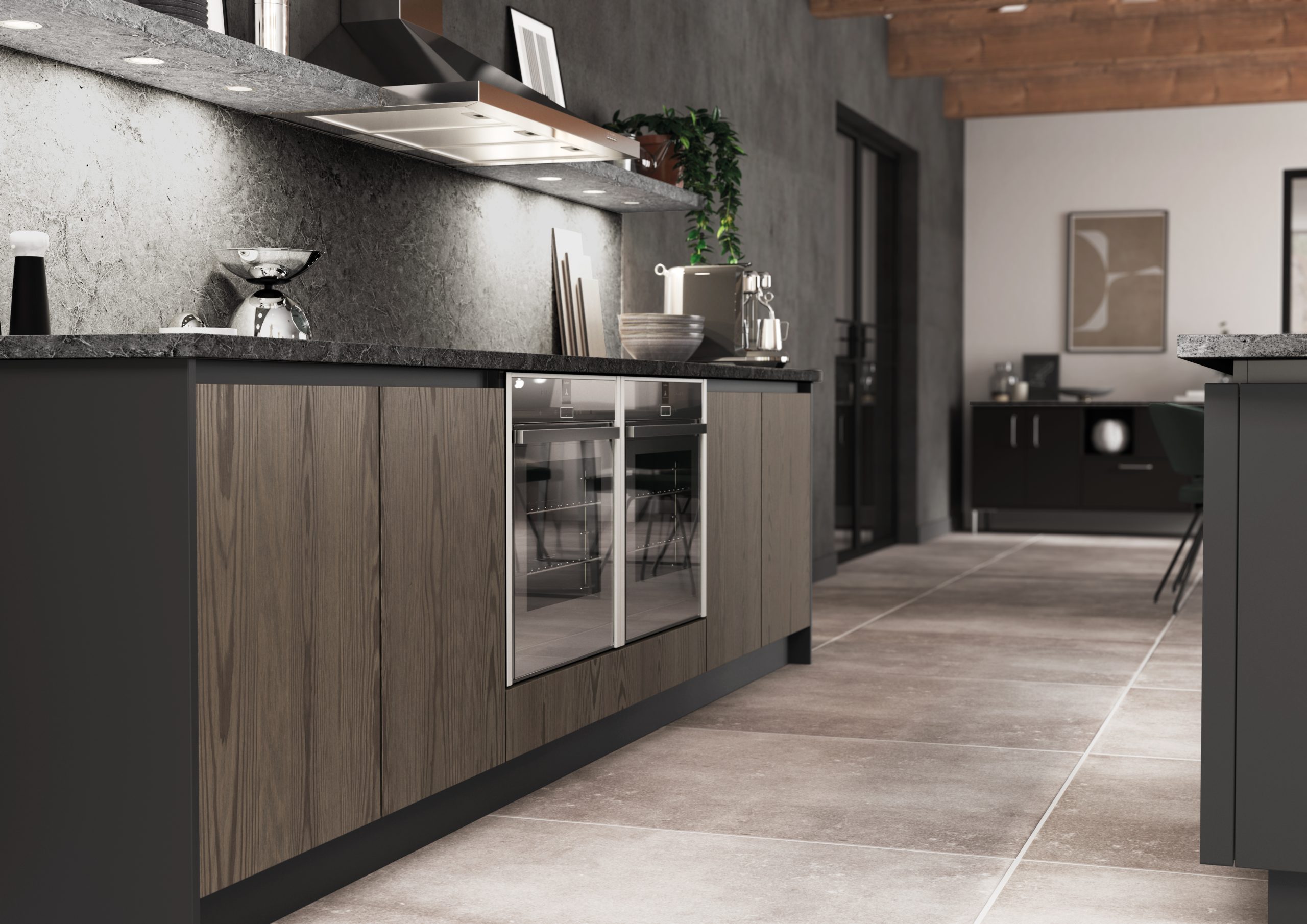 NATURE-INSPIRED DESIGNS
This has to be one of our 2023 kitchen trend favourites! It's time to embrace earthy tones, natural materials and create a new kitchen with a timeless feel.
The natural world has been playing a big part in our interior design over the last few years and using a variety of natural elements in your kitchen design works beautifully.
These Nordic inspired designs, as above, are popular right now, with lots of natural wood and natural stone.
The texture and darker hues used in a kitchen remodel like this one, evokes a connection to nature that enhances our mindset and wellbeing.
SCULLERY STORAGE
When thinking of this new kitchen trend for 2023, think of the old fashioned Butler's pantries. In traditional kitchens these were often used to store the cheeses and cold meats – on the cold slab – before the refrigerator became popular or accessible.
They come in all kinds of guises and designs, enhancing kitchen storage and offering a fun and very practical element to new kitchens this year.
Check our blog on Easy Cleaning Solutions and Clever Storage Ideas
HANDLE-LESS DOORS
We love the clean look of a handleless kitchen and as a design choice, this one is perfect for those that love a minimal style kitchen design.
The opposite to shaker-style cabinets, the sleek styling minus handles or knobs can look unfinished, but as a trend, this one has gained momentum over the last few years with many choosing this look for their new kitchen remodel.
SUPER SIZE YOUR KITCHEN ISLAND
This is one trend that has really stood the test of time and doesn't seem to be waning. The kitchen island has become more and more popular as the years have gone on.
Now, instead of the dining table, many choose to super-size their breakfast bar or kitchen island, opting for a multi-functioning area.
TWO-TONED CABINETS
One of the latest kitchen trends is for colorful cabinets in several tones or shades. A modern white kitchen can often be mixed with colorful upper cabinets, but white cabinets aren't your only choice.
This new trend of two-toned cabinets lends itself well to bold color schemes as above. Use pink with navy blue, sage green with dark green, or even black with olive. There are many choices; the only limitation is your imagination.
If you're planning a kitchen remodel this year, or in the future, it's always fun to include some of these trends in your designs.
Use these creative ways to bring your kitchen to life with a new look, and we know you're going to love these new kitchen trends in 2023.
Check out another blog for the Irish kitchen trends in 2023