Wish you could transport yourself to a serene oasis, far from the hustle and bustle of daily life? We cant send you to a Private island in the Caribbean,  but what we can do is give you ideas to make your home peaceful retreat, that transports your mind to a state of  calmness.
Carve Out Some Breathing Space
Whether you take the space to exercise, do your morning yoga or just sit and take a few deep breaths, having a space where you can escape from the hustle and bustle of daily life is worth it. And you don't need an entire room for it, get creative.
Take out a corner in the living room, behind a sunny window or in the guest bedroom. You don't need much stuff, in fact it's the absence of stuff that will make your corner more comfortable and relaxing.
Hide Your Tech
We can't live without our tech, but Nobody wants to stare at your tangle of cords. Thankfully, we have more options than ever for keeping our tech devices hidden away. Tie up cords in a media center so they are not visible, and dedicate a single drawer to storing all of your chargers, power cords and small tech devices when they're not in use.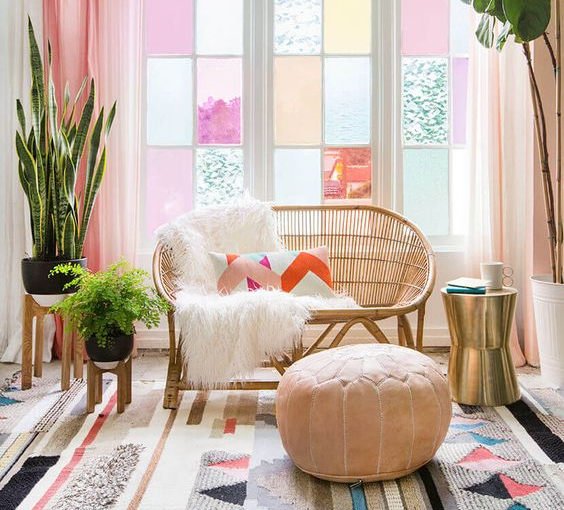 Get the Right Light
Natural light is has a certain charm to it and is always preferable to artificial light. During daylight hours keep your windows open, and if you have a view you don't particularly like get a sheer curtain to still light in.
As it becomes evening opt for lights with a soft glow such as string lights or lanterns. This is highly recommended in the night when a soft light makes a lot of difference.
Use Plenty of closed storage
Clean empty uncluttered spaces always leave you feeling lighter in the heart and makes you feel calmer. Use closed cupboards, drawers and to hide all your belongings and be careful with what you chose to display. And if the cupboard is inbuilt in your room to match your walls, that's even better. Display only small personality revealing objects such as an Elegant bud vase, or a row of seashells on the counter.