When it comes to selecting kitchen cabinets, it can be challenging to decide between dark and dramatic or light and bright. In this article, we explore the advantages of opting for a darker colour scheme.
Creating a Cosy Atmosphere with Dark Cabinets
If you want to create a modern yet inviting kitchen, consider using dark cabinets. Deep, dark surfaces, like those in this sophisticated kitchen, can help develop a sense of cosiness by enclosing the space.
Be sure to strategically place your lighting to cast a moody and atmospheric glow over the dark finishes.
Enhancing the Style
For a touch of elegance, nothing beats dark cabinetry. Dark, moody colours can create a sophisticated atmosphere that adds a seriously chic vibe to any space.
In this kitchen, the pale grey flooring and classic white wall tiles accentuate the dark grey cabinets and black architectural features beautifully. Brass handles enhance the richness of the charcoal hue.
Concealing Surface Imperfections
All kitchens experience wear and tear, but some show it less than others. If you anticipate frequent spills and dings, choosing a kitchen with dark cabinets, like this one designed by Compass & Rose, maybe a wise decision.
Dark surfaces are often more forgiving than lighter ones and don't show scuffs and stains as easily. If you're painting your cabinets, be sure to apply multiple coats, so that the dark undercoats conceal any scratches in the topcoat.
Striking Contrast
If you've chosen a white countertop, pairing it with a dark shade can create a striking contrast. The shiny marbled surface in this kitchen looks stunning against the deep-hued cabinets. The designers from House of Beulah embraced the contrast, combining white walls with dark grey features. To add warmth to the space, they incorporated a wooden floor and some soft foliage.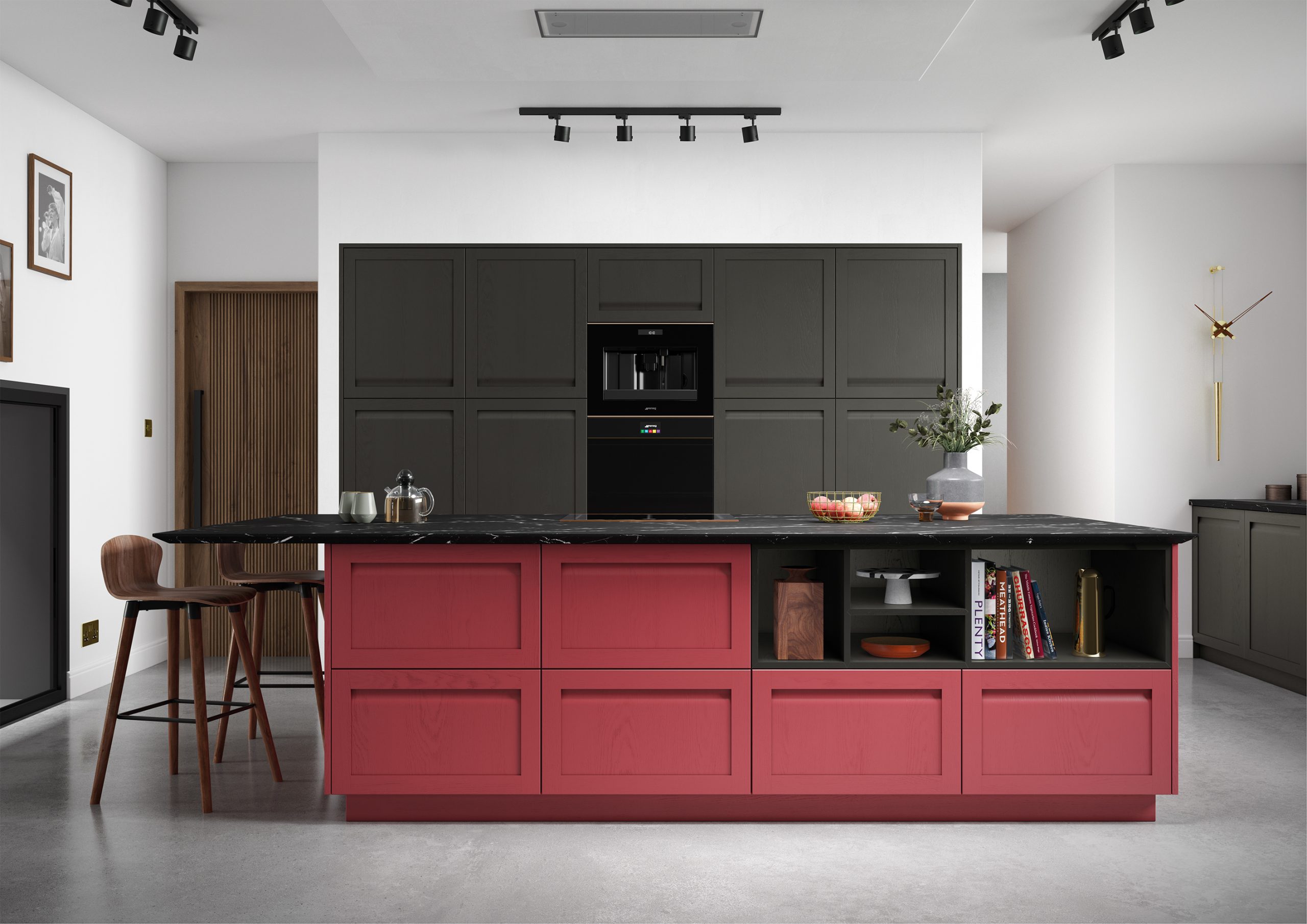 Use of Vibrant Colors
Just like how dark cabinets can enhance the beauty of a white countertop, they can also create a bold background for other vibrant colors. The dark grey cabinets are sleek and functional, but it's the green and red accents that truly bring the space to life. The cabinetry serves as a moody canvas to display those brilliant pops of color.
Harmonious Combination
Metallic finishes like brass and copper look gorgeous with dark colours. In this kitchen, the green cabinets perfectly match the brass faucet and backsplash, creating a harmonious combination. The two surfaces are beautifully balanced, giving the space a sense of refined elegance.
Divide the Area with Color
In an open plan, it is advisable to use colour to distinguish different areas. By using a dark shade on your cabinets, you can give your kitchen a more grounded feel.
Share your thoughts: Have you opted for dark cabinets in your kitchen or do you prefer a lighter colour scheme? Share your views in the Comments section below.