Summer is here, and boy could we all use a bit of sunshine!
Summer is a season that brings different colours into play and helps us bid goodbye to the dullness of winter by welcoming positive energy and lots of sunshine. From glittery undertones to pastel colours reminding us that ice-cream parlour we once visited ages ago. It is summer that brings colours such as blue and indigo into amalgamation. We know that summer calls for lavish lunch and dinner parties where we bring our tableware out for the best garnishing of smoothies. Bring your guests home to a new décor that will define your summer goals. You don't have to say it for they will believe it and appreciate your sense of style. We always keep you updated with the latest trends. Let us take you on a quick tour of summer trends for your perfect summer home look. The following trends are your way of redecorating your summer'18 home: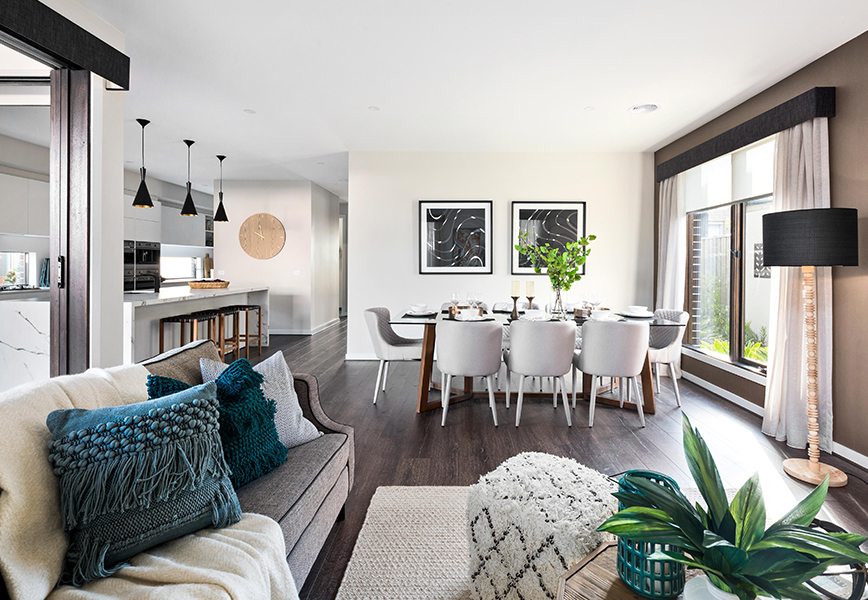 What's up with wallpapers and tiles?
Undoubtedly, it is geometry all over again. The usage of geometry is a smart move for it creates an effective decorative membrane allowing the light to balance furniture, walls, and accessories.
To our surprise, we had seen geometrical patterns on cushions and rugs in 2017. And now, we see it in 2018 as well with a deepened grasp in the form of tiles and wallpapers. You may give your kitchen a touch of geometry in the form of tiles or within your living room by buying a wallpaper a beautiful geometrical pattern.
Catalytically blue
The warm browns of winter furniture should now be replaced with inky blue. We suggest you think about welcoming inky blue shades in your home in summer. Why? It's time to bring a new set of colours to display a perfect room full of sunshine. It is important that your home is able to use the summer sunshine. Therefore, using inky blue in the form of vases and other important home accessories can bring a beautiful new look to your home.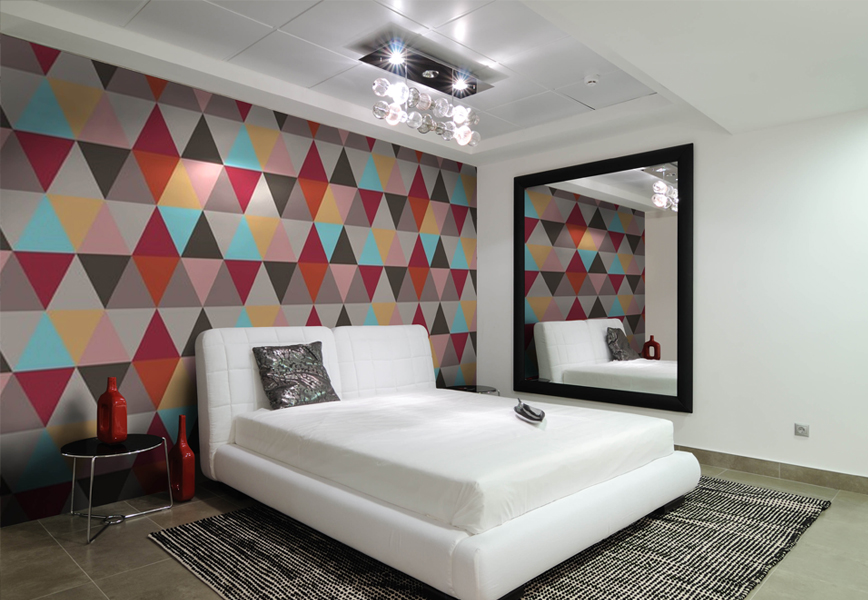 Gelato adds chills in summer, so are its colours:
Beat the heat of summer with ice-cream and its colours. Bring home the trendy gelato colours in the form of paints. Many paint colour producers have colour matching technology in their stores for its customers to select from a diversified pallet of paints.
You don't have to necessarily stick to one colour. Bring about a whole new look at your home by selecting multiple gelato colours. Home accessories in gelato colours can easily be found at the interior stores. Match your walls using gelato colours depending upon accessories.
Say hello to embellishments:
To be honest, tassels and feathers are so summer-friendly that they can become symbols of summer. As we see snowflakes imprinted on bedsheets and home accessories for it is the symbol of winter, fringes, and tassels are synonymous to summer.
Bring the summery tassels and feather in the shape of cushions, throws, and rugs. In addition, you would like to try Macramé accessories in summer. They bring about a different appeal giving your home a fresh look.
Transform your indoors with outdoor:
In the world of green living where everyone is trying out eco-friendly solutions, it is time that we bring plants inside our homes. The health benefits of plants indoors have been promised in the new research studies. There is nothing stopping you from bringing a lot of plants indoor because they make homes become lively.
Place them in the shelves or in the corner of the room. Plants will make dead places become alive. Summer is a perfect time to water some leaves and bring greenery in every nook of your home.
Colour therapy in summer is a must
Don't we all know the beautiful appeal of shades of different colours forming an illusion? When we recall words such as dreams and illusions, we are definitely talking about summer. Let us stop using riddles to surprise you.
Ombre is a perfect colour therapy that you may let your home have this summer. The right approach to incorporate ombre colour therapy is to select a wallpaper by matching it well with accessories.
As gold as the sun in summer
We have seen amazing trends in the summer of 2017. We saw it in the form of finishes and frames. This year, we can foresee glittery gold to be everywhere in our homes. It will allow the summer heat to turn into a shimmer bringing beauty to your home. The frames of mirror are likely to look better in shades of gold. The interior experts have seen niche market of interior to receive demand of gold. Hence, accents of gold are available in accessories, furniture and fittings.
We suggest you give an addition to your home by incorporating gold in the form of facets in your bathroom fittings, handles for your doors and table finish to make your home summer-ready. Furthermore, a slight addition of bronze to cut down the flattering glitter is another possible way to adjust the golden hues at your home.
Every home deserves a pop of colour
What is fun in not bringing popping colours at home in summer. Turn the sunshine towards your home and welcome it with colour pops. The brightness of colours accommodates sunshine and bring a fresh appeal to your home. For summer'18, choose the trend of colour pops for ensuring a design-oriented look to your home. The trend of colour pops allows people to bring individualistic nature to home's decor by selecting colours that are their favourite.
For most people, using colour pop strategy may be bold. As a matter of fact, the mix and match of colours allowing the basic bold colours to become lively. The neutral walls and the usage of blue detailing can recreate your home's look. There are many other options from rugs to curtains that can be used to apply the colour pop strategy.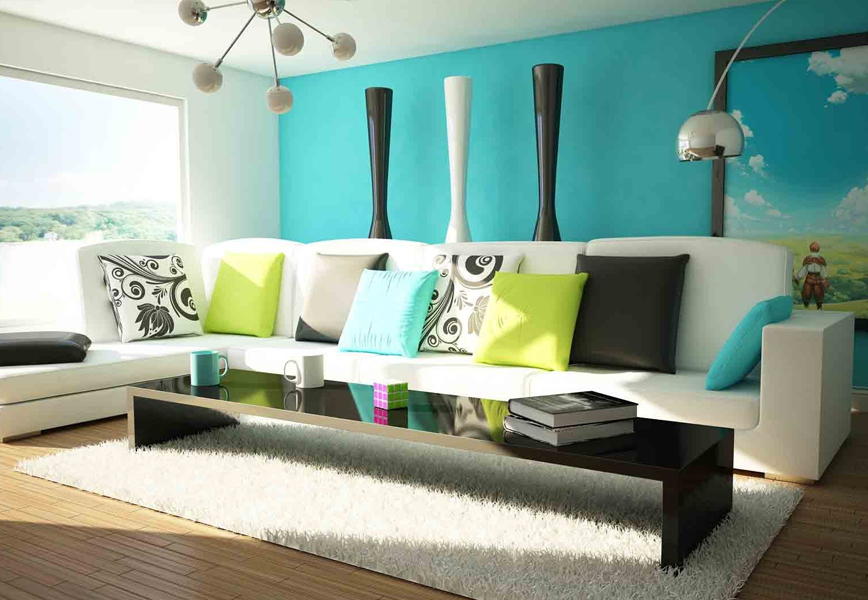 Adding layers to your details
Interior designing and that too for your own home is a dream and risk altogether. It takes a lot of budget for one to redecorate your home. However, with the right approach, you can make use of effective trends pay off your money in the form of people appreciating your sense of style. You can trust when we suggest you that bright colours teamed with golden hues will definitely redefine your choice and interior of your home.
We are talking about your kitchen table where you can use tableware with coloured linens. It is all about layering your home with the effective decorative pieces. The prints and patterns of tropical motifs are sure to set you in a summer mood. Before winter strikes again, you have got to redesign and reapply trends of tropical layering. We also think that the trend of getting tropical designs over your home accessories will take you to a whole new level of freshness. Nobody likes a dull home and hence, bringing abstract prints is the right way redesign your home.
Iridescence your way to catching light
Winter can be dulling for many people and thus, sunlight move them and bring a positive energy in your home. Open your doors and windows to the sunshine that must drop on an iridescence surface. The new concept of using iridescence carpets has changed the way people have imagined their floorings. The popular tend this summer'18 is to use as much bright flooring as possible.
It will work as a prism allowing the rays to touch your coloured walls and wallpapers. The distinctive layering of your home accessories could not have been possible if it was not for the iridescence flooring and carpeting. Take lighter colours to bring that mix and match pattern in your home décor.
At Good Brother, we provide the complete guide to your home décor. We have the best catalogue for you to skim and select your favourite summer home look. Let summer'18 be a memorable one. Contact us at 091-766637 for talking to us more about the trends that suit dimensions of your home and above all, your personality.