With every new year, comes ever new trends. The kitchen industry is forever changing, and the newest, coolest trend is always just around the corner. While it's great to be up to date with "the latest trends" it's also just as great to stay true to your own style and decorate your home based on the things that make you feel happy and at peace in your own home.
Some of us like the modern look - Clean linear designs, with modern glossy colour tones and a minimalist feel...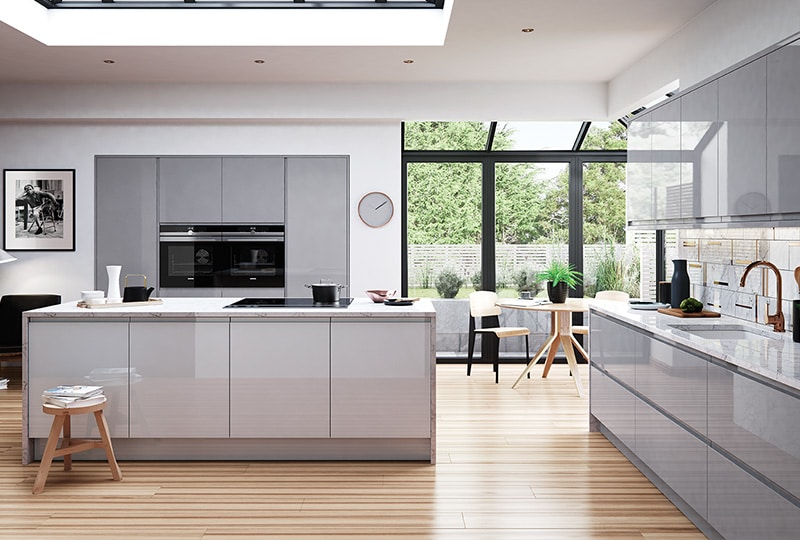 Other like the traditional look - Classic 5 piece painted kitchens that evoke a sense of warmth in our homes
Whatever your preferred kitchen style is, these 2021 Kitchen trends can be used as a source of inspiration, allowing you to bring "the latest trends" into your home in a way that exerts your own taste and personality.
Clean, Linear Designs
Elegant clean lines in the kitchen, no handles, no visible hinges and an absence of adornments are the hallmarks of a Linear kitchen. Each range is designed to be modular. The simplicity of Linear provides a blank canvas where the design can be conceived, shaped and expressed as your personal palette directs.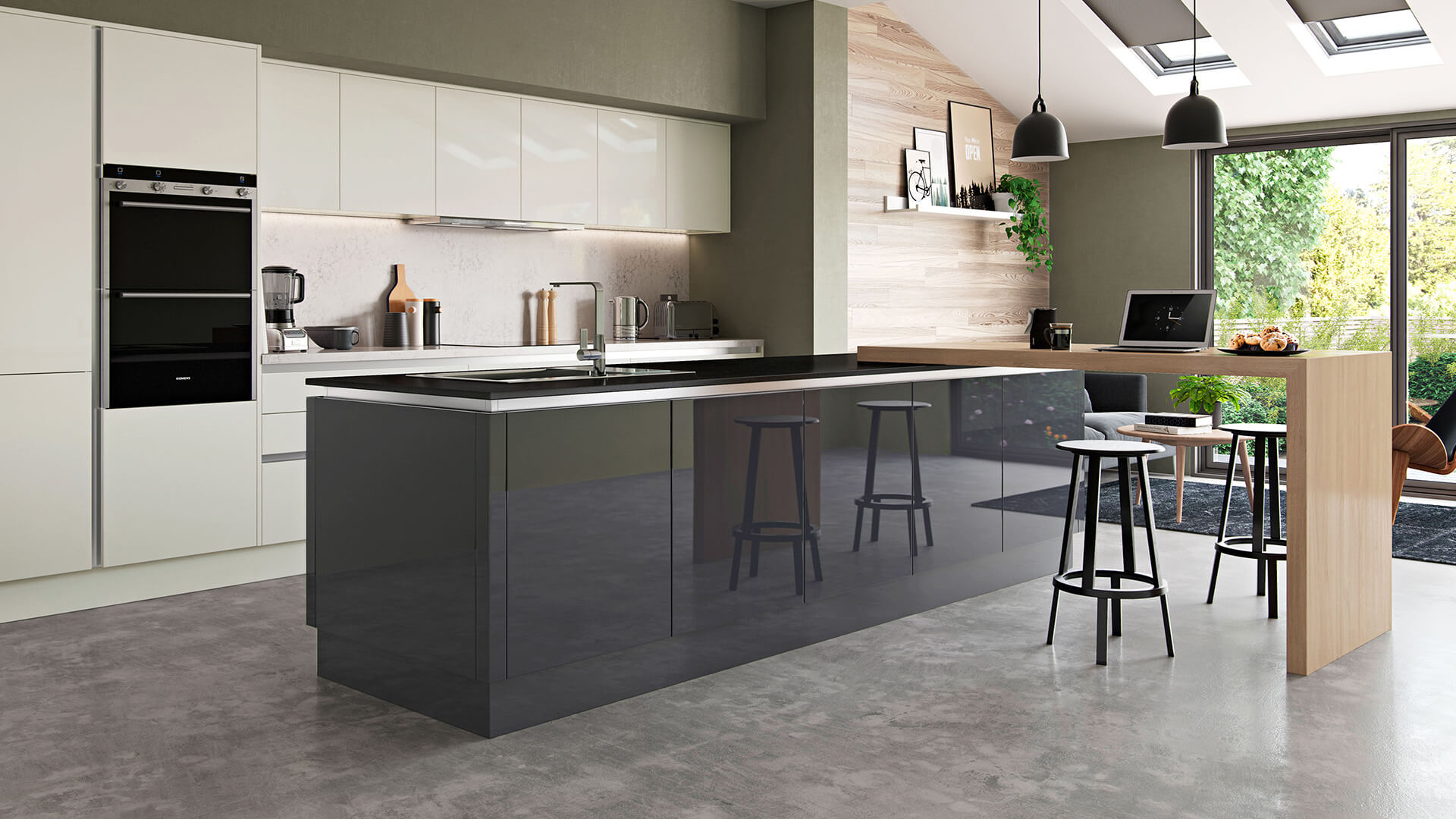 Two Tone Kitchens
Over the last couple of years or so we've seen an explosion of two-tone kitchens as a key trend in kitchen design. Two-tone kitchens help you separate the space visually and add depth and character to a room. As a design trend, they are here to stay. Future trends show that two-tone kitchens will only continue to grow more popular as they grow in popularity.
3x Clever Storage Options
1
Le Mans II
LeMans II is the only corner unit solution that combines very high space utilisation with outstanding access. No wonder, because LeMans trays swing right out in front of the cabinet. The trays move independently of each other bringing the entire cabinet contents into easy reach. You can store a lot of pots and pans – and each one is always in easy reach.
2
DISPENSA Larder
Each tray or basket can be individually hung at a height to suit the contents, making the DISPENSA Larder a flexible solution providing a lot of storage with a very small footprint. The entire height and width of the unit can be fully utilised. It makes the best use of available space and supports the good organisation and fast access.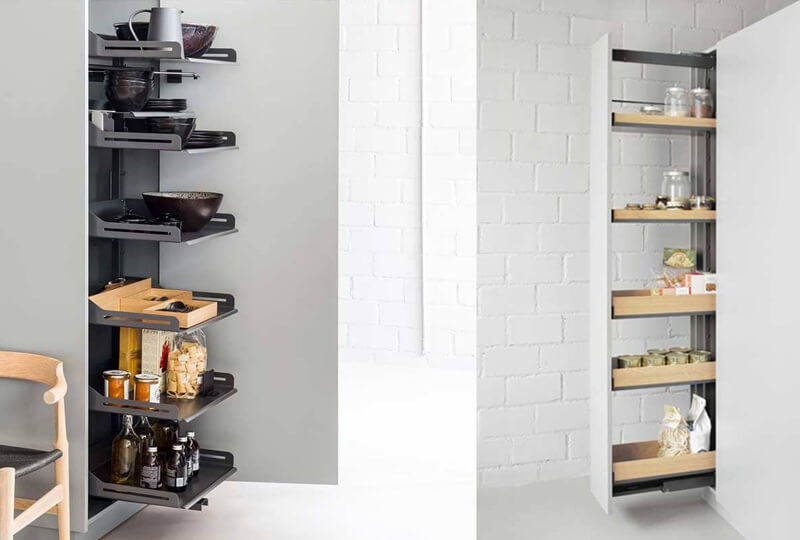 3
Pull Out Units
Make brilliant use of narrow gaps with the 150mm pull out range from Kessebohmer. This range can provide a surprising amount of storage space and functionality within the kitchen.
The towel rail, baking tray and bottle pull out offer practical, individual choices for fitting out narrow base units.
Eye Level Cookers
While this really is a personal preference thing, having your cooker at eye level has become more and more popular in recent years… Bending down to pull the turkey out of the oven has become a thing of the past. It's all about practical solutions, and this particular trend is one we are happy to promote – Taking your dinner out of the oven will no longer be a "hazardous task" ☺
Boiling Water Taps
A kitchen tap is the most used and valuable piece of equipment in your home. It needs to be tough, stylish and durable. The BLACK Quooker taps are as beautiful in the kitchen as they are practical. With its outstanding functionality and convenient features, it lets you enjoy a smooth, comfortable flow of hot and cold water whenever you want it.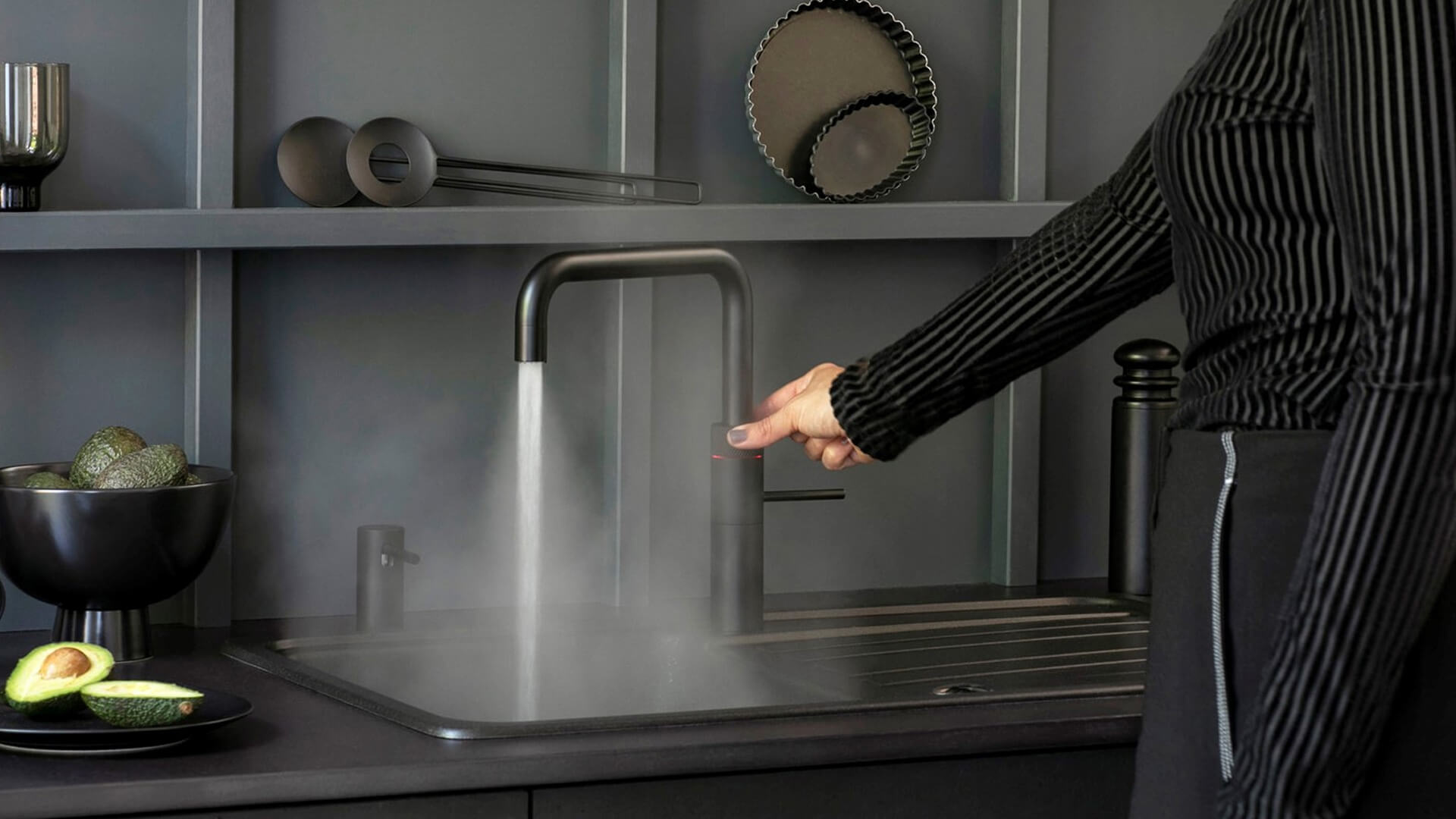 Lighting
Whether you're in the middle of a kitchen renovation or want to improve your current kitchen design, these kitchen lighting ideas will help you consider all the essentials…
Pendant Lighting
Pendant lighting hangs over a kitchen island or breakfast bar. A beautiful pendant can look striking suspended over an island.
Spot Lights
As well as looking sharp, these particular kitchen ceiling lights enable us to focus the light exactly where it needs to be.
Under-Cabinet Lighting
LED under cabinet lighting and fluorescent lights are probably the most popular, as these emit very little heat — but provide plenty of brightness.
Concealed Appliances
With this innovative design, your washing machine and dryer can sit in cabinets inside your kitchen. The cabinets help conceal the appliances, giving your kitchen a cleaner look. 
For more inspiration and up to date trends that can be used to inspire your kitchen, download our brochure below or book a call and speak with a member of our team. Happy Trending ☺